Emerging Technologies in Human Resource Management
Jacob Beasley
For the past few years, I have been working in the business of Information Technology. Recently, I was brought on board as the Chief Information Officer of Splayback.com, a sports video website that also specializes in fund raising for sports organizations of all sizes. In the process of performing this role, I have learned a little bit about what is out there for automating human resource management. Additionally, in a previous employment, I was Chief Information Officer for a financial services company. In that position, I successfully implemented just about every piece of software explored in this paper. I will be writing about what I consider to be the easiest areas of human resource management to automate: recruiting, training, and processing paperwork. I have chosen these areas due to my own experience. After reading this paper, you should expect to be familiar with software, companies, and methods of automating your human resource management.
Without the proper employees, a company really cannot function. There are really two ways, in my experience, that recruiting can be automated: it can automate the search for people who are good candidates and it can automate the processing of their resumes. Before you can hire anyone, you need to get their resume. One of the simplest ways to do this, is to post an available position on a website, such as monster.com or craigslist.org.
Posting a job position on a website is not free; it can cost anywhere between thirty dollars and thirty thousand dollars, depending on where you post and the number of cities you wish to post in. So, you want to find the website that gives you the most coverage for your dollar. What you really need is a way to compare two different websites' traffic, but does such a way exist? Yes, there are two major ways of doing this: you can compare their "Alexa" ratings or compare how often they are searched for using "Google Trends."
Lets begin by using Google Trends to compare monster.com, jobs.yahoo.com, and craigslist.com. Now, this is not an exact science, but it is still useful to do the comparison. To do this, you begin by going to http://trends.google.com/. From there, you search for the terms you are looking for, separated by commas. To compare these three sites, I would type the following
into the search box and click search: "monster.com, jobs.yahoo.com, craigslist.com". You may want to try variations on the name, such as "monster jobs" or "yahoo jobs," just because sometimes people do not search for the exact url. After a few searches, you will see "big trends." The graph to the right shows a search I did. Clearly, Monster.com had been the dominant player over the past few years, but ever since the end of 2008, Yahoo Jobs and Craigslist have been catching up. The graph on the left shows that for some sites, such as yahoo.com (which is not even on the map), the initial results can be misleading. You need to "think like a searcher" and pick terms that a person searching on Google would choose when they want to find a site. After all, not many people would search for "yahoo jobs" by typing in "jobs.yahoo.com."
Alright, so Google Trends has its shortcomings. I admit it, but where it leaves off, Alexa picks up. Alexa is a piece of software that users can install that allows Alexa.com to track what webpages they go to. The more people who go to your website with the Alexa toolbar installed, the higher your site is rated on Alexa.com. Initially, this might be considered a "privacy concern," but many businesses have its employees use the "Alexa Toolbar" in order to improve the business' own Alexa rating. Additionally, many advertisers use Alexa ratings in order to judge the quality of advertising space (Maki). Through the use of Alexa's ratings, we can judge how one job website compares to another.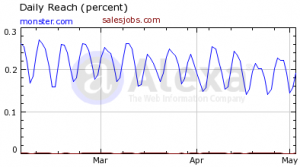 So, you have posted your ad, but suddenly you receive 500 resumes. How are you going to be able to "quickly sift" through that many to pick out the best, say, 20 or 30 resumes? You need a system where resumes can be uploaded by potential job applicants. For this, I want to talk a little bit about Zoho Recruit, which can be seen at http://www.zoho.com/recruit/index.html. If you are ever in the position of dealing with thousands of new resumes, then I want to take a moment right now to encourage you to check Zoho Recruit out. From my past experience, it allows you to have a series of job postings, a series of recruiters, and a series of potential applicants. It then allows you to setup some basic filtering for the job posting and then filter your potential applicants based on that data. It is very simple to use and even easier to deploy. It all can take as little as 20 minutes from start-to-finish. Pricing is based on volume, but is extremely affordable. Additionally, it allows total private labeling, so nobody has to know you are using an off-the-shelf product.
Once an employee is hired, they need to be trained. One-on-one training is time-consuming and, as an organization grows, inevitably your employees will need to be re-educated on a regular basis. Though it may be practical to hold weekly training meetings, many businesses are finding that it is useful to use video tools, a "company wiki," or web-based quizzing to make sure that their employees are well-educated and equipped.
Lets begin by exploring the use of video tools. These days, everyone is familiar with Youtube, but have you ever considered using video within your corporation for training, documenting procedures, and motivating employees? Youtube is launching a corporate version of their platform (Cashmore). Personally, I have encouraged people in the past to use Clip-Share or PHPMotion. Both can be setup for under $500 and thrown onto a webserver for under $100 per month. For a company that already has an IT department, it can be a great alternative to traditional training approaches. It is especially useful when your staff are not in the same area.
Wikipedia is synonymous with information these days, but what exactly is Wikipedia? Well, Wikipedia is just the largest site running the Wiki software "MediaWiki." MediaWiki is totally free software, so installing it on your company's server is easy. It takes less than an hour to get it setup and configured just the way you want, presuming you have a programmer on your staff. A wiki works like an encyclopedia that anyone can edit. Of course, MediaWiki does allow you to prevent just anyone from editing, but that is just a matter of having the proper configuration. Wikis can be used for documenting corporate policies, competitors, or just storing a list of commonly used documents for the staff. It is web-based, so if they have a web browser on their phone or computer, all the staff will have access to it without installing any software ("MediaWiki").
Sometimes, a business may feel the need to train its employees in a fashion that is more "ordered." They may want to setup a sort of "online college" for their staff. It could, for example, automate the orientation process for hiring new employees in other states, or be a way for the company to test every employee on changes to company policies on a monthly basis, thus allowing management to quickly know who to train based on their test scores. One tool that I have used in the past for this is called "Moodle." It is completely free, easy to setup, and has literally hundreds of free add-ons created by other companies and schools who use the software ("Moodle.org: open-source community based tools for learning.").
When I first started by own business, I was faced with seemingly insurmountable amounts of paperwork for hiring new employees, running payroll, and doing all of this in compliance with federal, state, and local regulations. I needed someone to help me out. I found Paychex, though there are a number of other payroll processing companies in the industry. Paychex targets small businesses and takes on the liability for any errors that they make, so they were a natural fit for me. I was just starting out and not large enough to warrant someone whose sole purpose was Human Resource Management. By hiring a third-party to process all of the paperwork for me, it allowed me to focus on running my business rather than on preparing professional looking paychecks for my employees. Additionally, they have automated the entire process electronically, so all I have to do is give them a call once a week and let them know how much to pay everybody. They then handle automatic deposit, taking out taxes, filing those taxes with the state and federal government, and allowing my bookkeeper to check all of the financial information online. They even integrate with Quickbooks ("Payroll by Paychex.").
Though payroll is the most basic element of pay, it is not all of what is involved in rewarding employees. In this day and age, many people expect healthcare and retirement benefits. Additionally, our government provides tax incentives to provide these to employees, so it makes a lot of economic sense to do so, but providing all of this can be very challenging. It requires a lot of complicated paperwork; I would not even know where to begin. Luckily, there are companies out there that specialize in benefits processing. Like Paychex, they have leveraged proprietary computer software to automate the entire process. One such company is benefitprocessing.com ("Benefit Processing, Inc.").
The modern business environment is increasingly competitive, and to succeed, an organization must be able to adapt and improve efficiency. Technology is one way they can do this. By leveraging modern technology in recruiting, training, and processing, I have been able to flourish in my career, quickly advancing myself from a novice computer hobbyist to the Chief Information Officer of Splayback.com. The one piece of advice I leave you with is this: All technology must be both practical and easy; if it is not, people will avoid it and it will be a waste.
Works Cited
"Benefit Processing, Inc." Benefit Processing, Inc.. Benefit Processing, Inc., n.d. Web. 5 May
2010. <http://www.benefitprocessing.com/>.
Cashmore, Pete. "Introducing Youtube, Corporate Edition." Introducing Youtube, Corporate
Edition. Mashable, n.d. Web. 5 May 2010.
<http://mashable.com/2007/07/18/youtube-enterprise/>.
Maki. "20 Quick Ways to Increase Your Alexa Rating." 20 Quick Ways to Increase Your Alexa
Rating. Dosh Dosh, n.d. Web. 5 May 2010.
<http://www.doshdosh.com/20-quick-ways-to-increase-your-alexa-rank/>.
"MediaWiki." MediaWiki. MediaWiki, n.d. Web. 5 May 2010.
<http://www.mediawiki.org/wiki/MediaWiki>.
"Moodle.org: open-source community based tools for learning." Welcome to the Moodle
community!. Moodle, n.d. Web. 5 May 2010. <http://moodle.org/>.
"Payroll by Paychex." Payroll by Paychex. Paychex, n.d. Web. 5 May 2010.
<http://www.paychex.com/>.