When users visit their site, how do you know which pages they are clicking on? In this short tutorial, I will show you how to find this out, visually, using Google Analytics. If you already have a Google Analytics account setup, it only takes a few minutes. If not, it may take a bit longer, but in terms of actual time spent, is probably still less than fifteen minutes.
Step 1: Install Google Analytics for Your Website
Go to Google Analytics and login using your Google Account. If you do not have one, create one. Then, select that you want to add a site. Follow the steps and it will give you some Javascript code that you will have to have your webmaster add to your site. Once added, it will track every user that visits your site and what that user does. If you need more directions on this, please view an extended tutorial on setting up Google Analytics. The entire process can be completed pretty quickly if your site has a common header/footer file that the code can be added to.
Step 2: Use Google Analytic's Site Overlay Feature
There's really not much work, here. Just follow the steps below to get to the site overlay feature. You can see a screenshot below.
1) Go to Google Analytics (analytics.google.com)
2) Click on you site from the list.
3) Click "View Report" next to your site.
4) Click "Content" on the left side
5) Click "In-Page Analytics" on the left under "Content"
6) And that's it. You should get something like the image below (click on it to see a larger size). Be sure to select the date range that you want to analyze.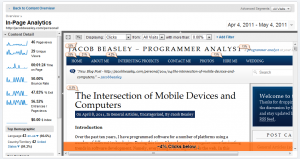 Cool, huh?